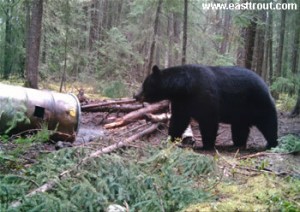 What you can expect on your bear hunt
It doesn't matter if you are a novice or an expert bear hunter, we will tailor your hunt to suit your needs.   It is our intentions to make this hunt an adventure you won't soon forget.
We offer baited spring and fall bear hunts which have a success rate that range  from 95%+.  The spring bear season in Saskatchewan runs from April 15 to June 30 and re-opens August 1 to October 31 for the fall season.  The majority of our  bait sites are hunted out of  12′ high ladder stands and are about 20-35 yards from active  baits.
Remember a unrecoverable bear is considered a kill.
Frequently Asked Questions
Our guides experience ranges from 15 – 30 years of hunting experience.
How experienced are the guides?
How many anglers/hunters per guide?
We operate with 2 hunters per guide
Will my group be split up?
Will I be added to another group?
We run our camp with a maximum of 6 hunters per week.
As a rule we try to keep groups together and pair up singles.
What is the entire cost of the trip including all license fees, access fees and additional trophy fees?
Please inquire as prices are subject to change without notice.
What deposit is required?
We require a 50% deposit in the form of a International money order sent  in a way you can track it.  There is No refund on deposits but you can sell it to another hunter in the same year and time frame that your hunt is booked.
What methods of payment do you accept? Is there an ATM machine available locally?
There is NOT an ATM machine available at camp.  Our methods of payment are cash or international money orders.
Do you provide any references or referrals from other clients? May I call them?
Yes we do provide references.  If you request references, we will give their contact information.